---
Bill Tracking - Designed for You
The Wheeler Bill Tracking System allows individuals to track only those matters that pertain to them. Instead of having to look at everything, we allow you to pick and choose which bills, committees, appointments, administrative rules, budget sections, and agency notices you want to see.
Bill tracking accounts are totally customizable, allowing you and your office to use the system in the manner that works best for you.
Start tracking bills at the cosponsorship stage.
The System automatically updates cosponsorships to bills and adds companion bills to your tracking list when available.
Enter your clients, and track government activity based on your individual clients. Print real-time lists of bills based on your individual clients, and your hours lobbying on behalf of clients.
Tracking bills based on their importance - give your bills a ranking and setting to allow you to quickly know where your most important bills are.
Create individual text message alerts for bills which are moving quickly or are a top priority.
Get emails with updates on bill activity.
Keep everything in one place - bill information, committee information, legislative history, executive history, documents, notes, lobbying hours, see who is registered for or against your bills, and see press releases related to your bills.
Get notifications of tracked committees, or of bills that are up in committee.
Find out current information on executive appointments.
Track administrative rules and get updates during the administrative rule process.
Get access to budget motions, votes, and track individual portions of the budget.
Get notifications for agency committee meetings.
Print your lobbying hours in formats helpful for billing clients or submitting to the Ethics Commission.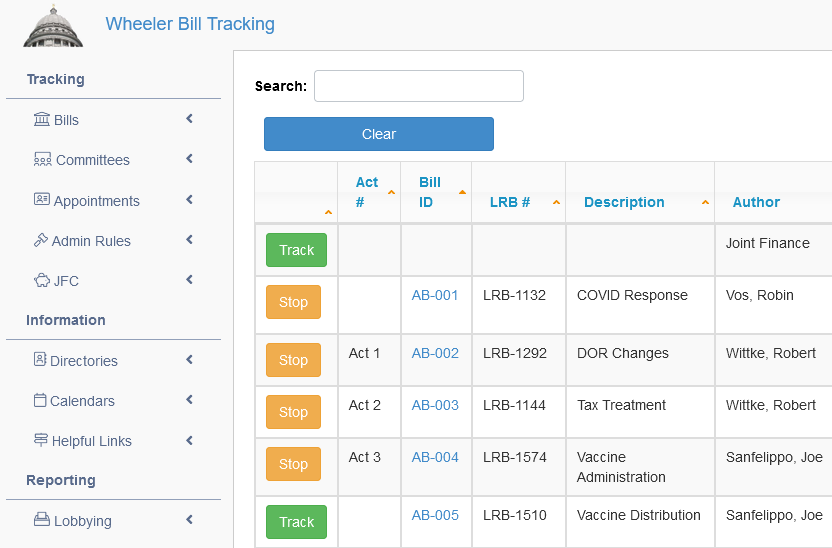 ---
Wheeler Daily Email Report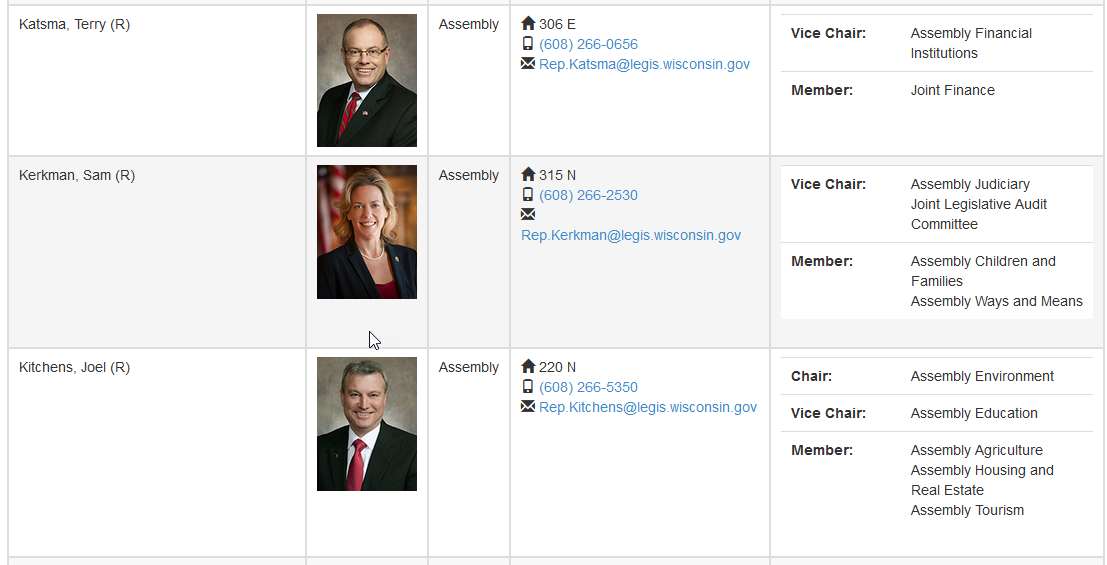 The Wheeler Report email newsletter is sent daily providing information about Wisconsin government, including:
Cosponsorship memos
Bill Introductions
Committee notices, Committee action
Floor calendars, Floor action
Executive action on bills
Budget details and analysis
Court opinion summaries
Administrative Rule weekly updates
In-depth stories on policy issues that affect Wisconsin
Joint Finance filings and action
Much more
---
Wheeler Joint Finance provides real-time access to Joint Finance action on the state budget and s13.10 meetings. The Wheeler Report scans offered motions and posts them while the committee is acting on them. The system also registers who makes a motion, and who voted in what manner on each motion. In addition, the system allows you to choose certain portions of the budget which are important to you and your clients to receive notifications on.
---
Wheeler Daybooks are sent out at the end of the week providing you with an up-to-date listing of all legislative activity for the next week, and every evening with committee notices for the next day.
---
Wheeler Text Alerts provide important breaking news, start and end notifications for sessions, and start and stop notifications for Joint Finance.
---